| | | | | |
| --- | --- | --- | --- | --- |
| [ | mood | | | sleepy | ] |
It's after 12, so technically, yesterday was mine and Matt's 5 year anniversary! April fools, that be us. ;) 5 YEARS BABY! 5 more is 10, yeash! We had a great day. It would have been better if the weather wasn't so shitty, but we made the best of it.

My friend John was able to get us free train tickets since he works for NJ Transit, so that was a big plus for us. We tried to get the train at Long Branch, but the directions Matt got on his iPhone took us to the Monmouth Park station. We were so confused. We were going to stay and try to catch the train there, but I couldn't find a parking spot. It was for the best anyway. I found out that the train doesn't even stop at that station. I guess that would explain why it looked rundown and vacant. :D So we tried to find the Long Branch station in time, but ended up finding it as the train was leaving. I said, "eff this. We're going to Newark" So we got the hell out of Long Branch, and headed for Newark Penn Station. You might be thinking, why the hell not just drive into the city? Well, to be completely honest, the very thought of driving into the city scares the piss out of me. I can not imagine going through New York City, in my car and surviving. I just know I'd get into an accident if I tried... Newark was super easy though. I (semi) know my way around from all those hikes to QXT's. We even passed Q's, and parked down a side street that I, strangely enough, would always park at when the free parking lot was full. Funny, eh? That spot never fails to be open. It's like a cursed spot that nobody dares to risk parking in, except for me. So we parked and walked to the station. It was cold and beginning to drizzle. I kept hoping it would let up. At least stop raining, but my hopes were in vain... We caught the train without any problems and happily made it into the city, free of cost.

We exit Penn Station and walk down 7th. We tried to find a cab, to take us to Saint Marks in the East Village. Finding a cab at that location is hell, so we continue to walk 7th, and I'm trying to spot a free cab to hop into. No luck. Matt says, "Why don't you stick out your hand like everybody else, and hope one of them see's you." So I did, and sure enough, a cab pulled over. BUT, the car wasn't yellow. It was black, and didn't have anything identifying it to be a cab. Like idiots, we got in anyway. We made it to St Marks, but the guy charged us 15 bucks! Last time we came to the city, it wasn't nearly as much. Anyway, we walked through St Marks and all the asian restaurants I wanted to try appeared to be closed. So, we find our way inside this hippish frozen yogurt parlor called, Red Mango. It was amazing! Def the best frozen yogurt I've ever had. The toppings were fresh fruits as opposed to overly sugary, syrupy fruits from most places. Mmmm, I'm craving some right now! We hung out there for a bit before deciding to venture back outside. We walked around, trying to figure out where to eat. At this point, Matt is getting cranky because he's cold, hungry, and unsure which place would be good. So I picked a place that I thought looked interesting. We ended up in Je'bon, a modern looking noodle and sushi joint. Matt got what he usually gets when we have Japanese: 3 servings of various sushi, which is almost always the California, Alaska, and some kind of lobster roll. they didn't have the lobster one, so he got something else. I don't remember what it was, but it was weird. It had mayo in it... I got a dragon roll, with a bowl of noodles, chicken, and veggies in coconut milk broth. It was delicious. After dinner, we were thinking it might be best if we start heading back to Penn Station because, it's simply too cold, wet, and miserable outside. We walked up 3rd ave. Last time we were in the city, we walked this way, and there was a place that had bubble tea. So we're walking, and I'm trying to remember how far up it is, when I start to think it's no longer open. And then, out of the melancholy precipitation, and bitter cold, there it appears. Another cute asian place called, Saint's Alp Tea House. This plase was hoppin'. We sat down, I had almond milk bubble tea, and Matt had a slushy chocolate shake. This is where we began to take pictures.

Holy shitzo! A picture of me in my journal.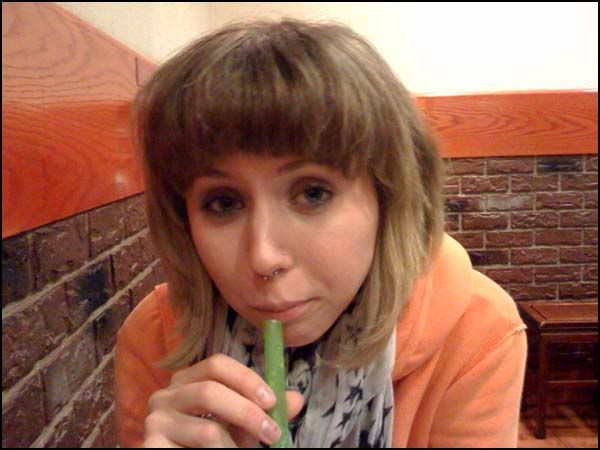 "Mmm bubble tea." It's been so long since I posted pics of me. Look how much my hair grew. It makes me sad, I'm back to normal. It's not so bad. My hair doesn't feel as fried as it used too. Crooked septum jewelry needed adjusting, thus making my whole face look crooked.

( Anyway, onward to more crappy camera phone pics. Hey, gotta work with what ya got if yer digi cam is broken.Collapse )

There ya have it. Happy 5 years us. And Happy April fools!